Regular price
Sale price
$0.00
Unit price
per
Sale
Sold out
Created in a little over 70 hours of drawing, this map is my love-letter to The Elder Scrolls games. I have been playing since Battlespire but truly fell in love with the world of Tamriel with Morrowind. Though I offer it for free, I do hope you drop a little something in my tip jar to encourage me to continue possibly creating more of Tamriel and/or other worlds.
Though I can't quite offer the hi-res version (as it's a MASSIVE file), I thought that for those of us who want to add it as a screen background, use it while gaming virtually, or just for fun would find this size more than acceptable.
The file is a 72DPI jpg but at a generous 3600px at the widest point. Download does not include my logo on the map.
This file is not for resale nor to be distribution neither in part, whole, or included in a collection. All rights to the art is reserved by Deven Rue and IP property to Bethesda Studios, The Elder Scrolls, & ZeniMax.
View full details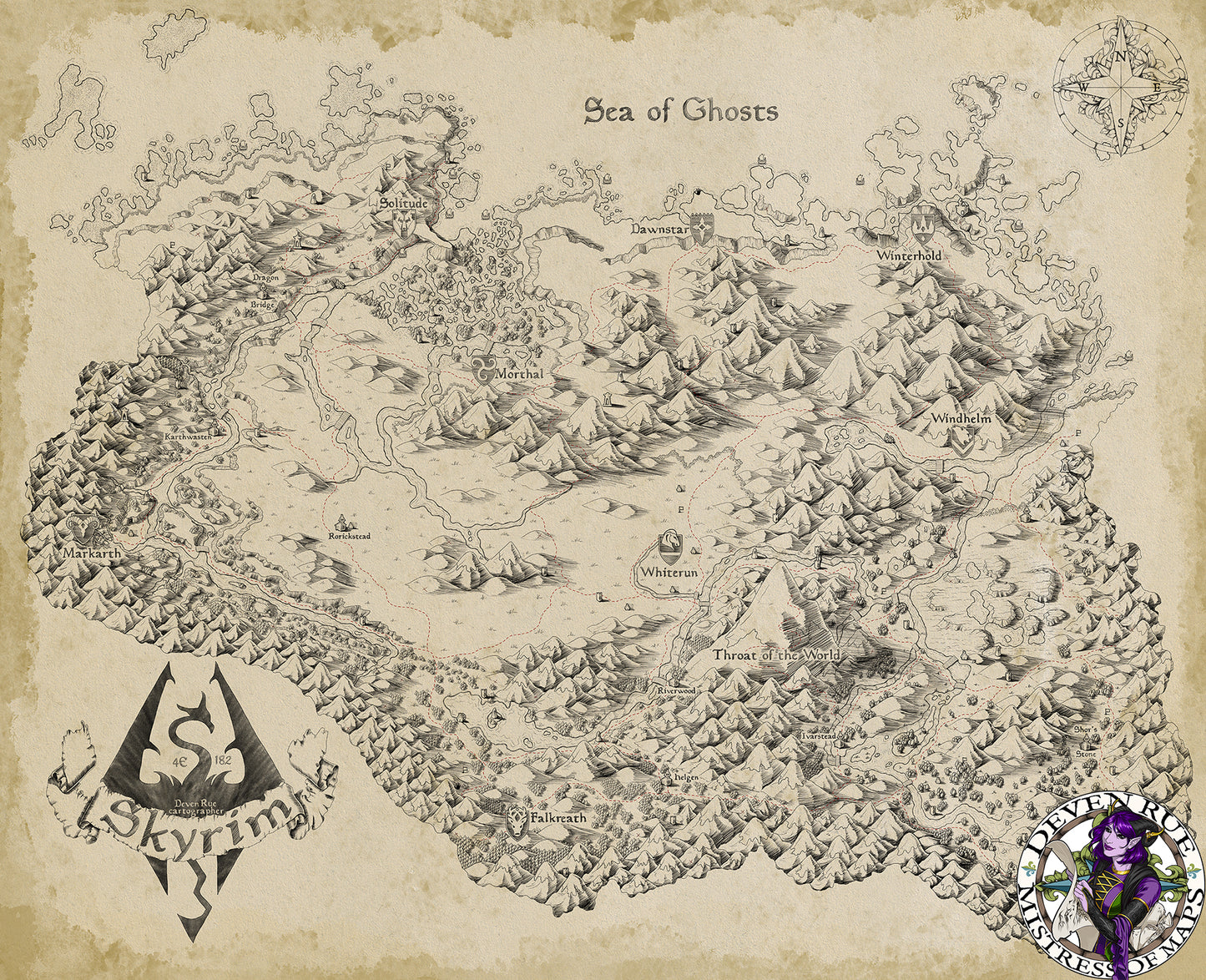 Collapsible content
Licensing

By purchasing and/or downloading any digital products from this site you agree to the following:

Deven Rue, the artist & owner ("Owner") of the copyrighted artwork being purchased (the "Work"), hereby grants you the non-exclusive, non-assignable, non-sublicensable, and perpetual right to use the copyrighted Work in digital format for personal non-professional, non-commercial, non-profit purposes.

You are not allowed to distribute the Work or incorporate it, in whole or part, into derivative works for commercial use unless stated otherwise in the product description.

You are prohibited from use the Work for any other purpose, including: using, reproducing or distributing the work and/or materials incorporating all or any part of the Work for profit; selling or distributing electronic copies of the Work as standalone files or as part of a product from which a person is able to extract the Work as a standalone file; distributing the Work in or as part of an electronic template (e.g., as an image available in a word processing or web page creation application) intended to be reproduced by third parties on electronic or printed products; or using the Work as part of a trademark, service mark, or logo.

The Owner retains all other rights in the Work and any derivative work, including without limitation, the right to use, copy, sell, license, and distribute copes of the Work in all markets and territories.

This Agreement shall be construed and enforced in accordance with the laws designated by the Owner, now or in the future.
Subscribe to get access to my digital archives!

Subscribers to my website can get access to my entire digital archives, steep discounts, & exclusive downloads and merch, plus SO much more! Click here to find out more!