Regular price
Sale price
$5.00
Unit price
per
Sale
Sold out
As you walk along the street, two huge oak trees reach their branches across the path several feet above your head; between them is a purple two-story building with green shutters with a stone path leading you to the small porch. As you approach, a calico cat stands and stretches on the railing it had been sleeping on then makes a "brrrrt" sound as it hops down and walks to the door, clearly intending to dart inside once given access. As you reach the first step of the porch landing, the smells of rich earth, sweet flowery musk, and fresh cut wood reach your nose. You open the door to a brightly lit room filled tables, shelves, and crates artistically displayed by coordinating colors. Where there isn't products, bottles, or ingredients, there are plants growing from pots along the walls and hanging from the ceiling.
As one beautifully packaged product after another catches your eye, you find yourself picking up and smelling soaps, shampoos, lotions, herbs, teas, tonics, and every manner of beauty product you never knew existed!
Welcome to The Blooming Bounty Apothecary!
The Blooming Bounty Apothecary is a story enhancing, immersive shop that you can drop into your fantasy campaign in just about any town or city. The Story PDF introduces you to the 3 shop owners, tells you about their lives, provides information on the apothecary they run, the services they provide, inventory, unique potions and ingredients, offers work for an adventuring party, and much more! It's 33 pages packed with ideas, suggestions, & inspiration to help take the stress out of worldbuilding an apothecary shop yourself. Because, let's face it, as a DM/GM you have enough to do!
Download the maps to give your players a visual feast!
Basic Pack includes NPC PDFs, summer night & day map of all 3 floors, printable labels, and tokens of the shop owners.

The Complete Pack has everything above plus maps for all seasons day and night as well as unfurnished, interior brushes, and asset pack.

You can also pick up some Blooming Bounty wares, including potion bottle stickers, in my shop by clicking here!
View full details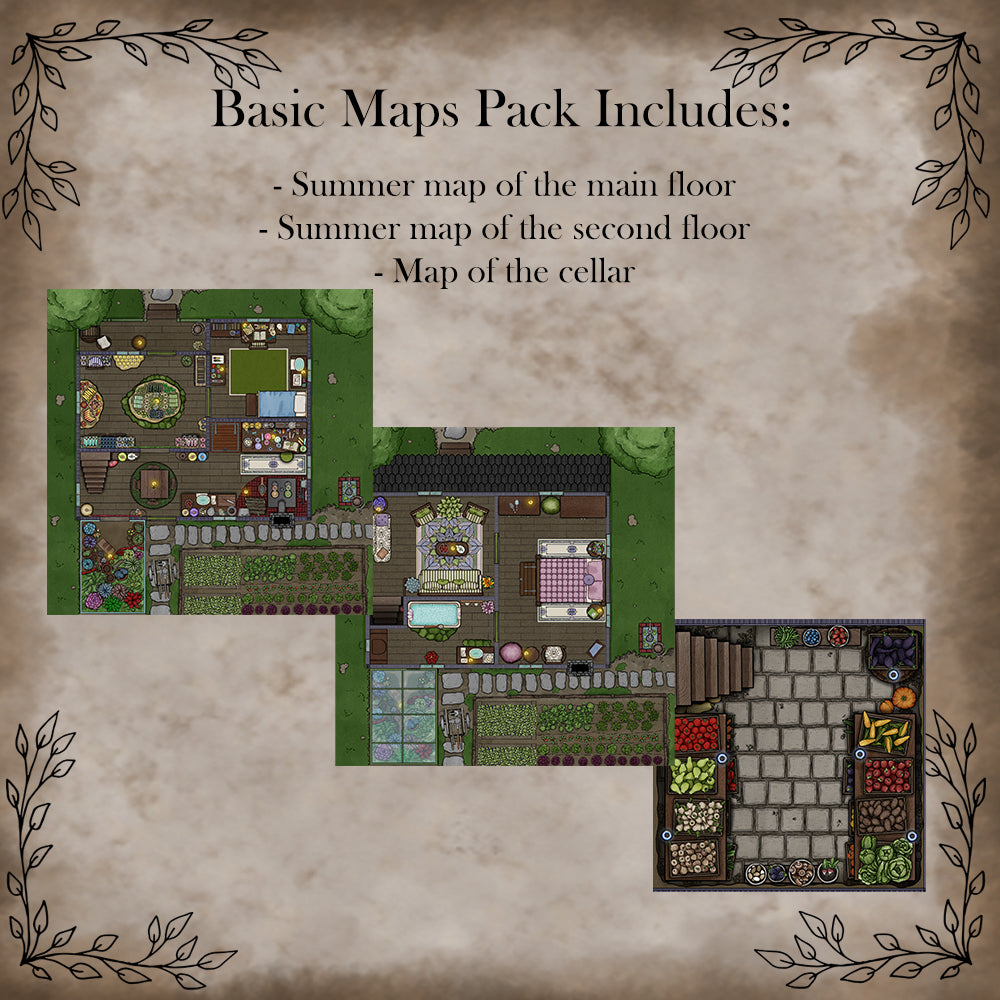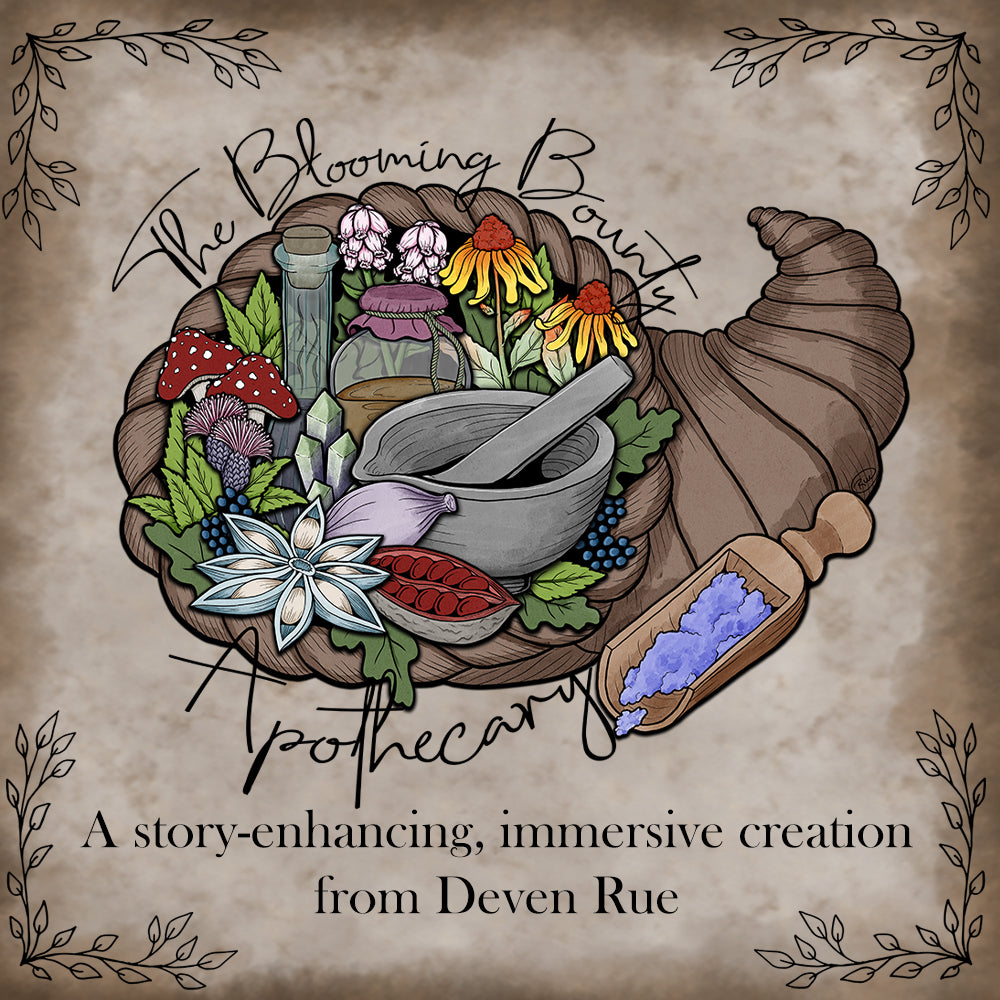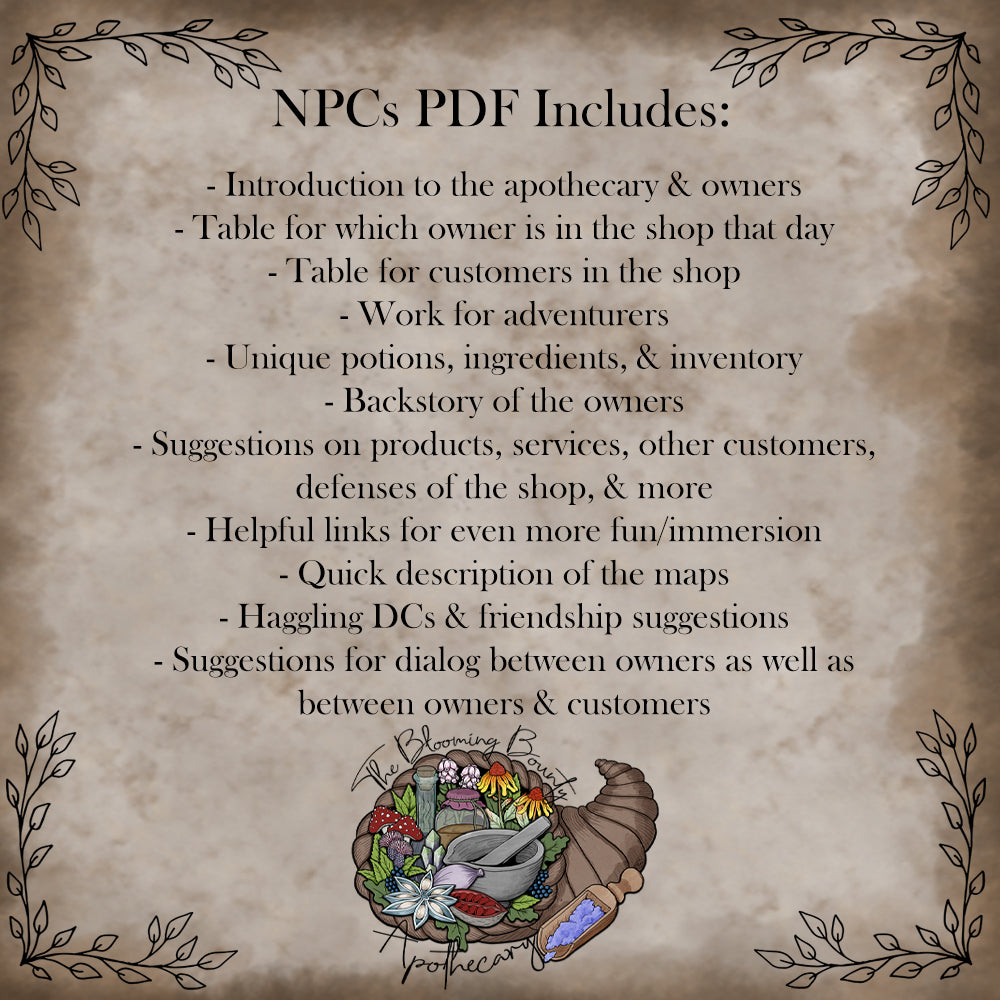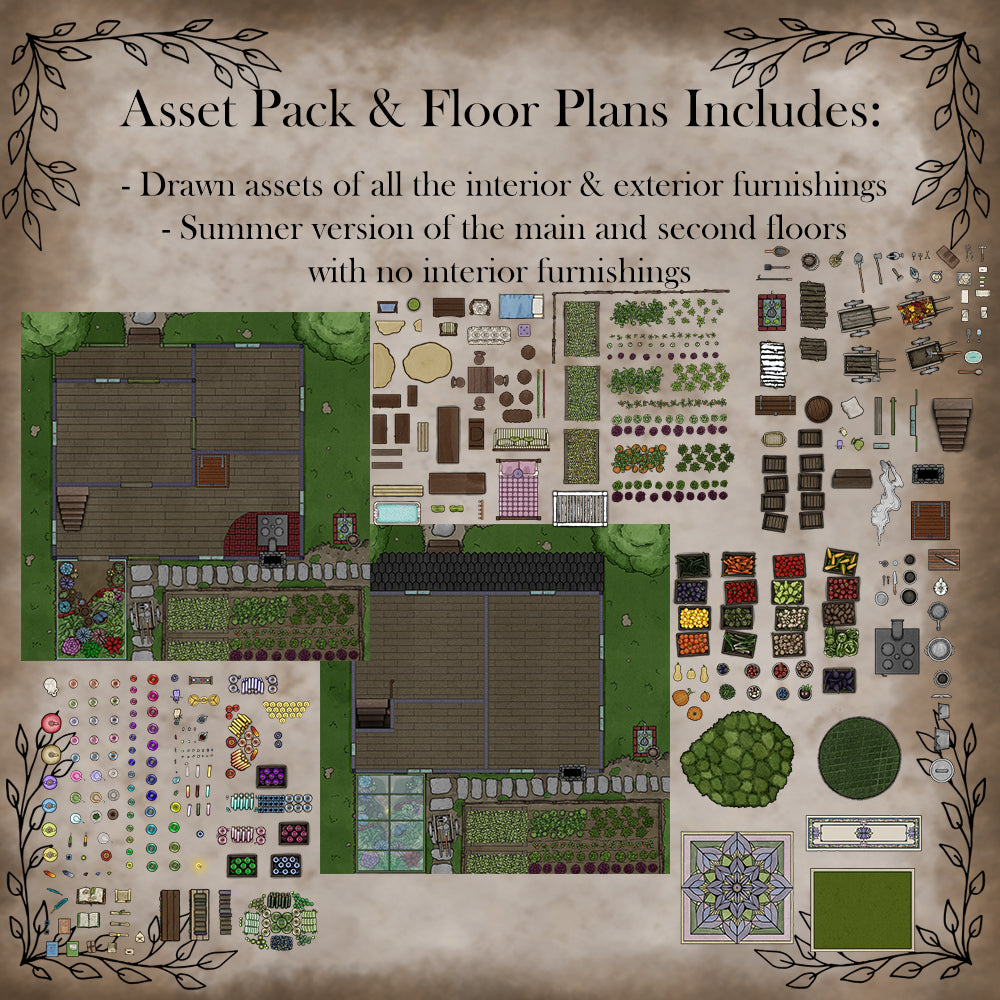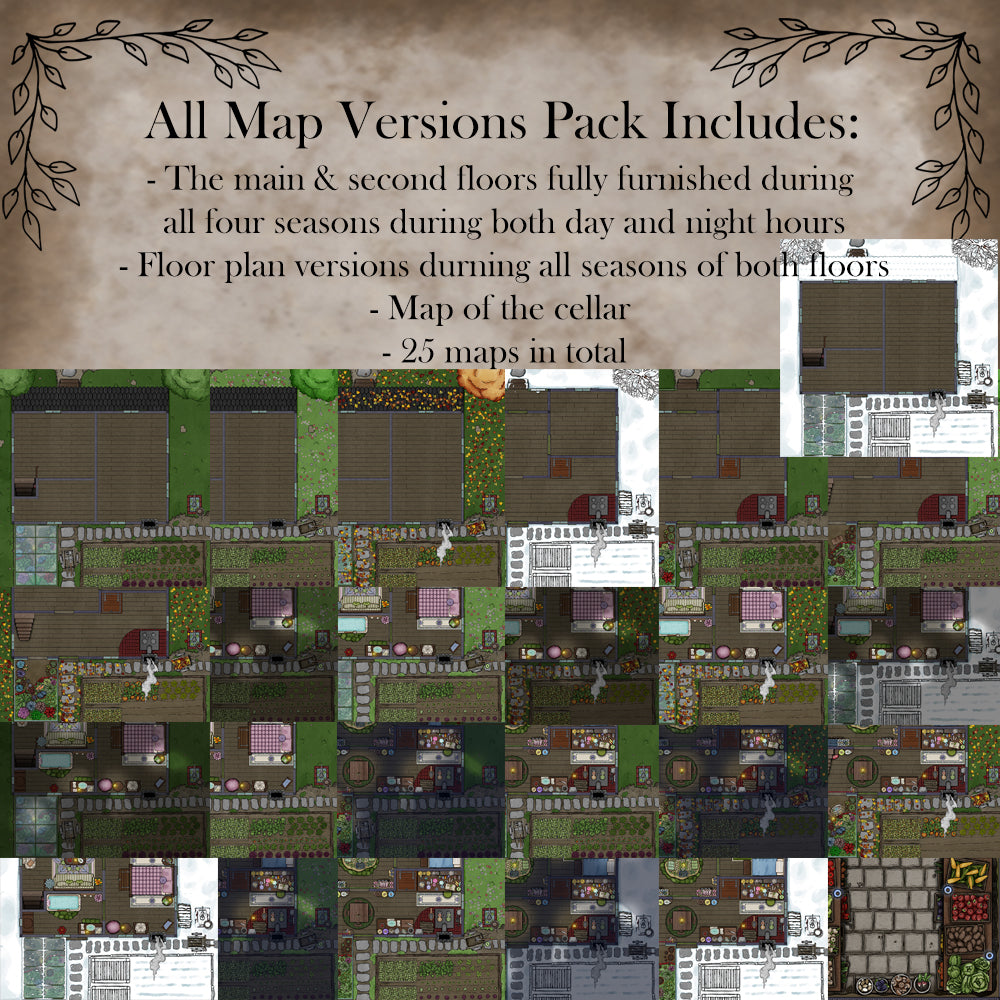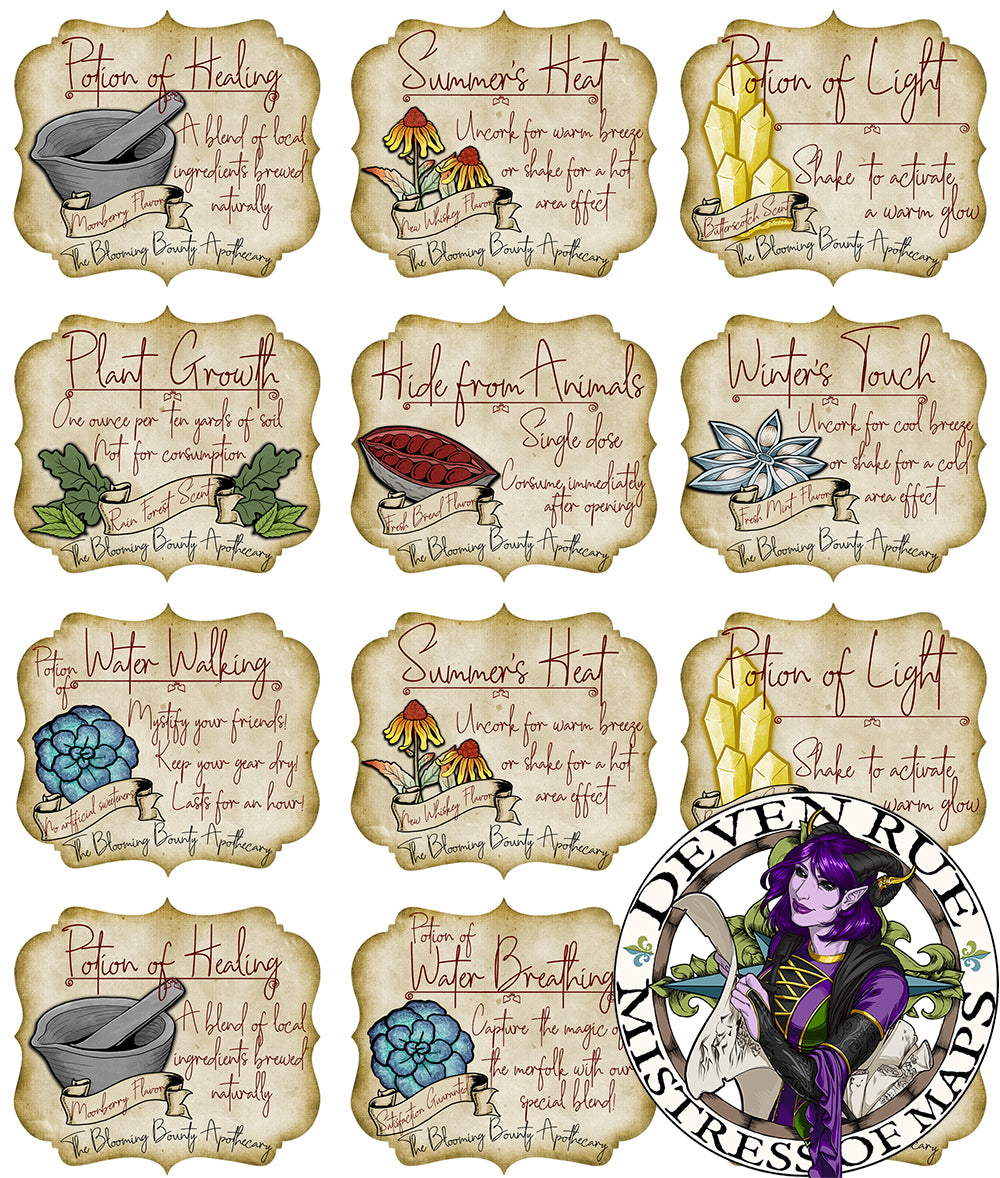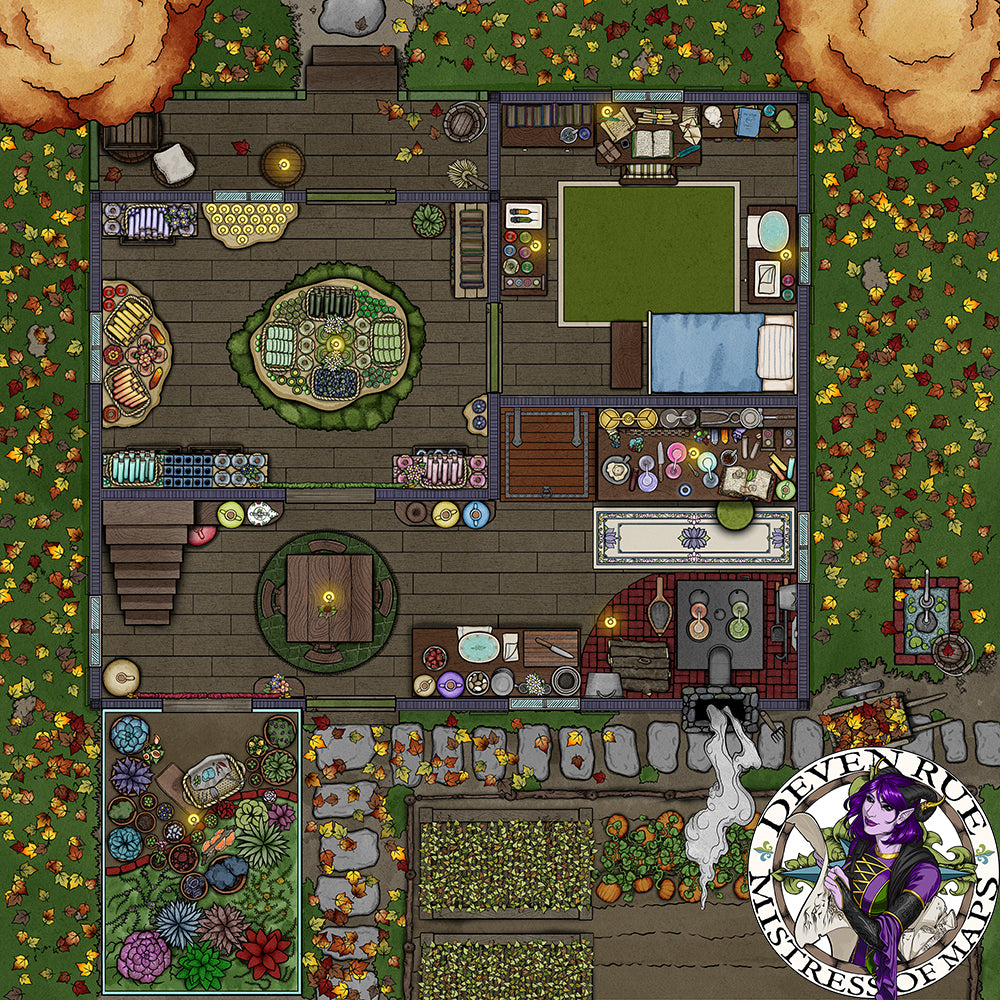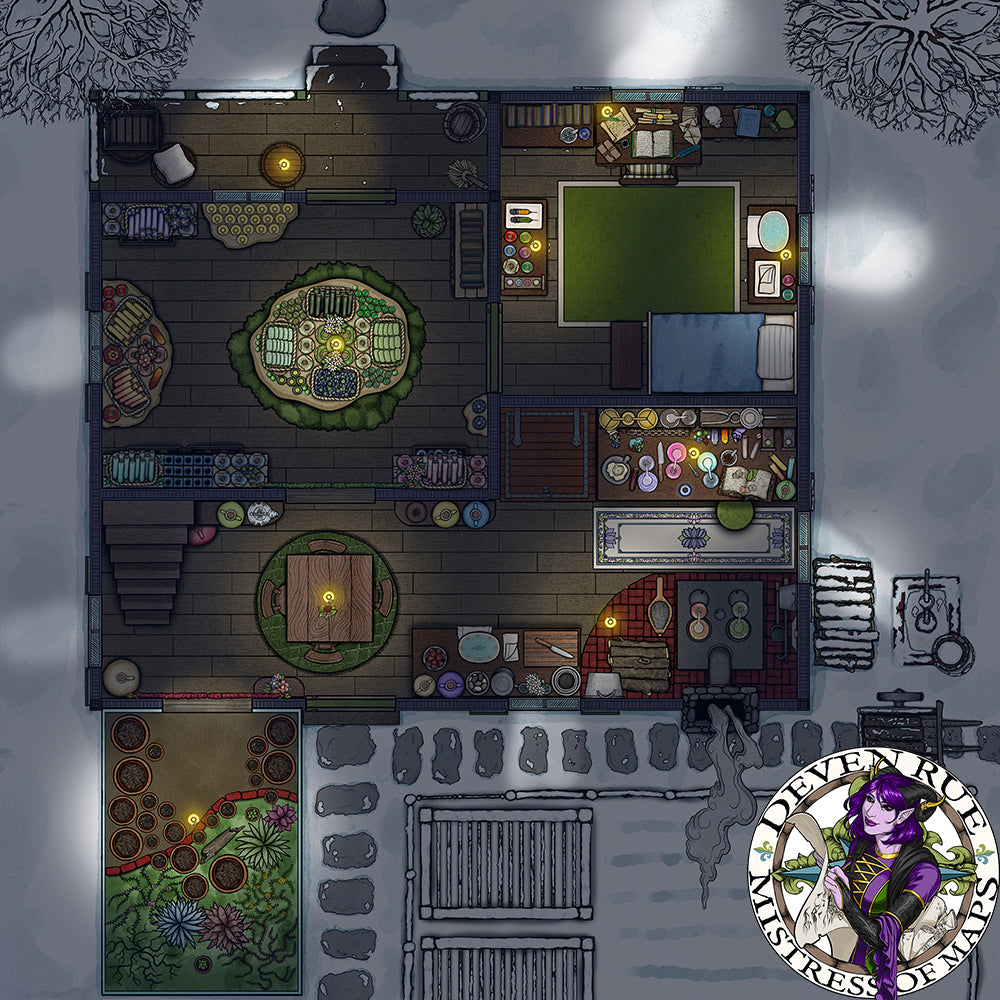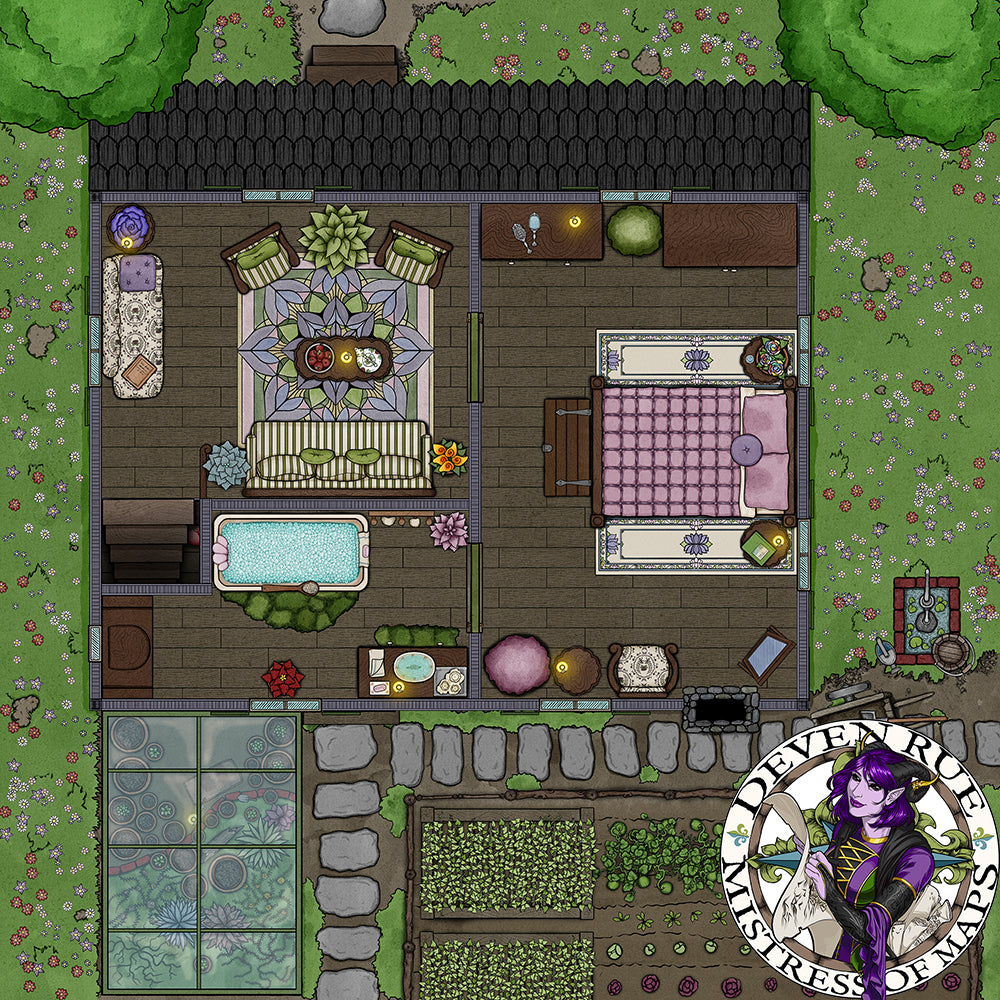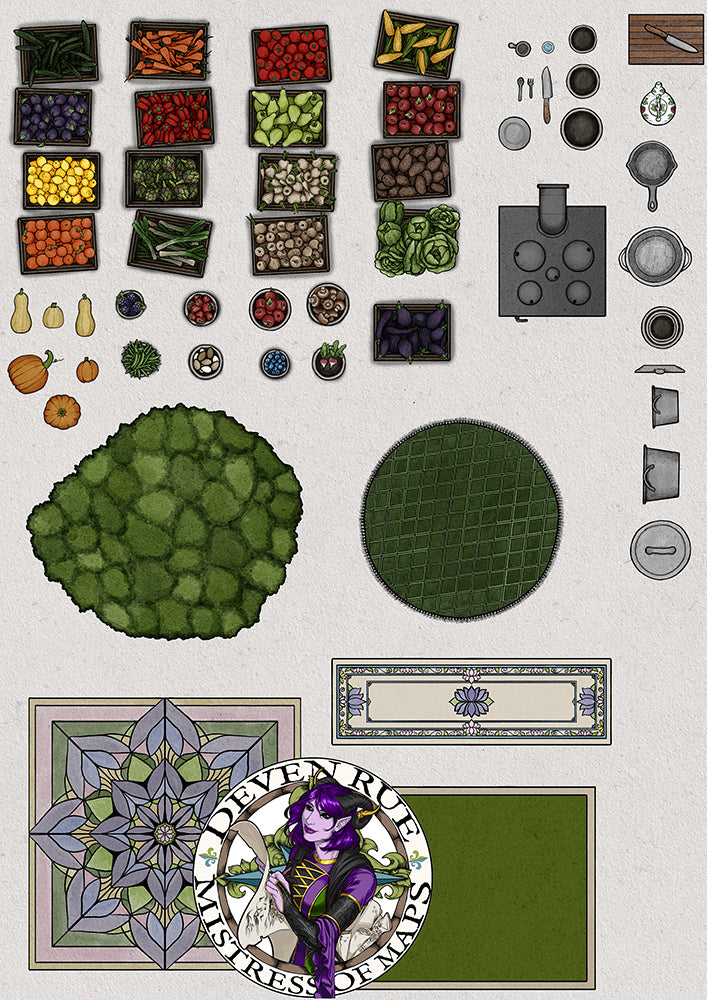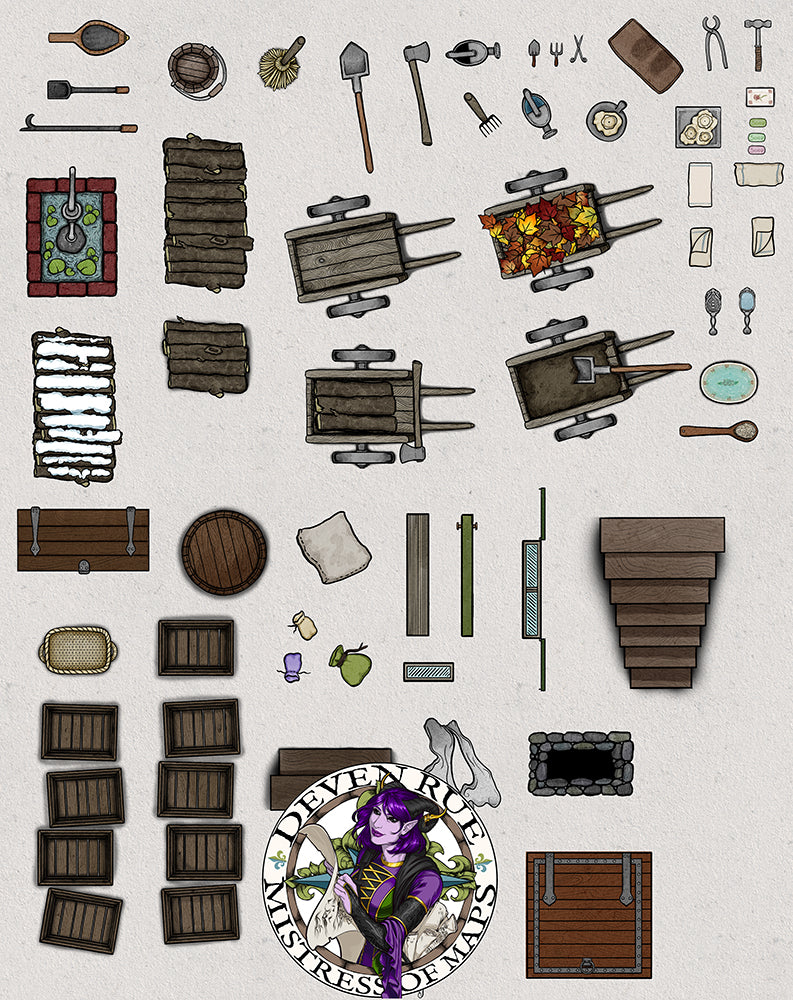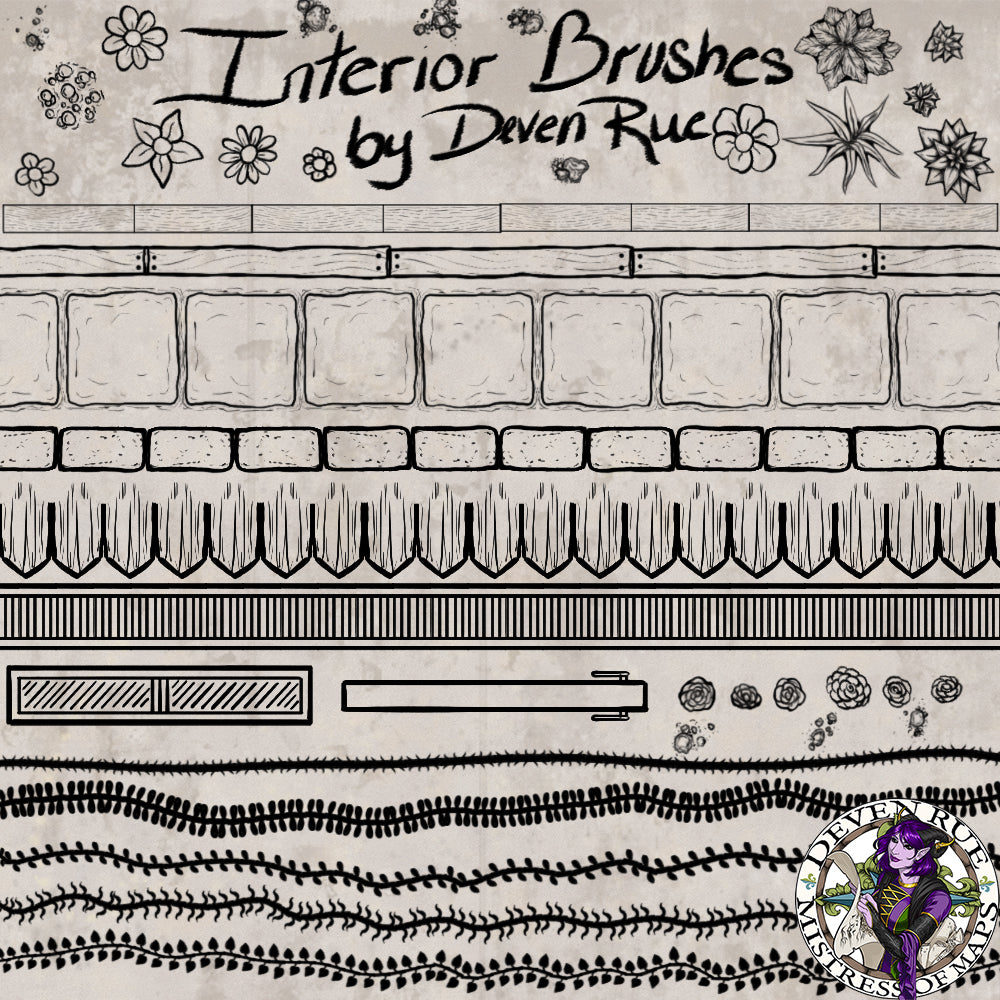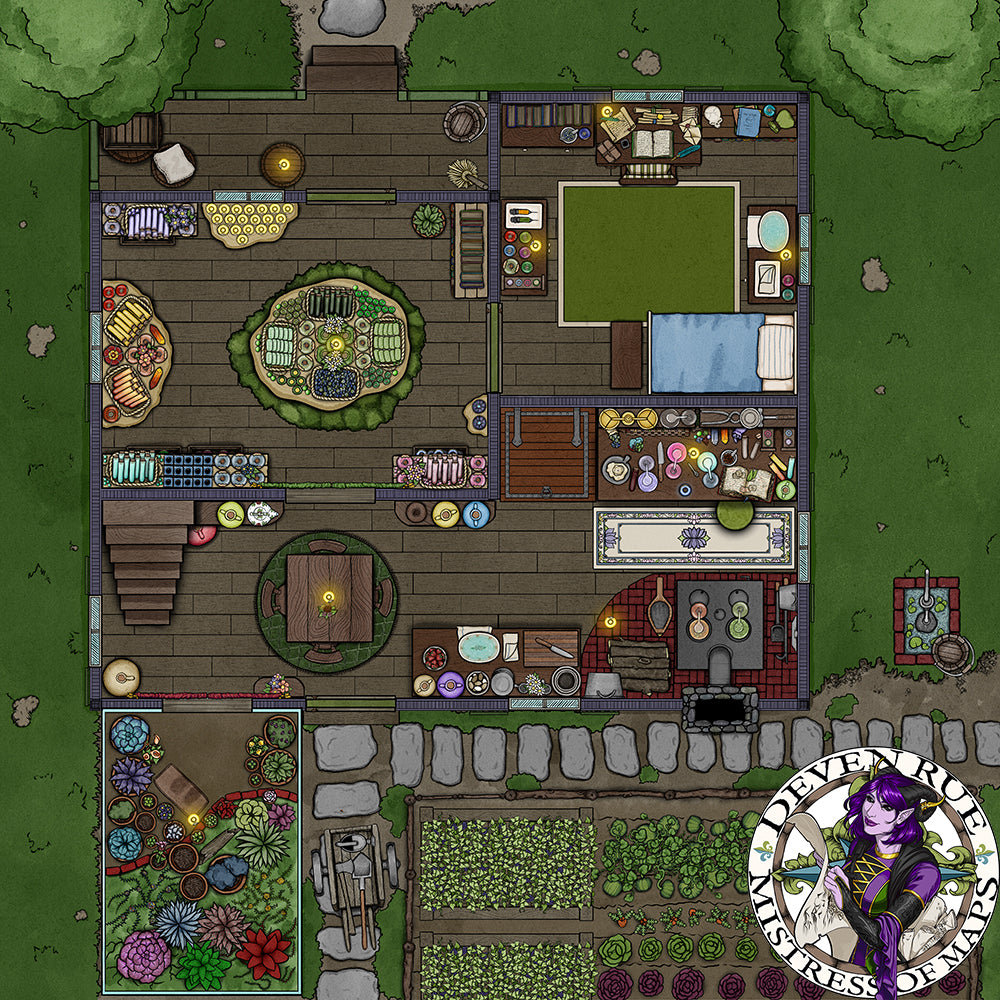 Collapsible content
Licensing

By purchasing and/or downloading any digital products from this site you agree to the following:

Deven Rue, the artist & owner ("Owner") of the copyrighted artwork being purchased (the "Work"), hereby grants you the non-exclusive, non-assignable, non-sublicensable, and perpetual right to use the copyrighted Work in digital format for personal non-professional, non-commercial, non-profit purposes.

You are not allowed to distribute the Work or incorporate it, in whole or part, into derivative works for commercial use unless stated otherwise in the product description.

You are prohibited from use the Work for any other purpose, including: using, reproducing or distributing the work and/or materials incorporating all or any part of the Work for profit; selling or distributing electronic copies of the Work as standalone files or as part of a product from which a person is able to extract the Work as a standalone file; distributing the Work in or as part of an electronic template (e.g., as an image available in a word processing or web page creation application) intended to be reproduced by third parties on electronic or printed products; or using the Work as part of a trademark, service mark, or logo.

The Owner retains all other rights in the Work and any derivative work, including without limitation, the right to use, copy, sell, license, and distribute copes of the Work in all markets and territories.

This Agreement shall be construed and enforced in accordance with the laws designated by the Owner, now or in the future.
Subscribe to get access to my digital archives!

Subscribers to my website can get access to my entire digital archives, steep discounts, & exclusive downloads and merch, plus SO much more! Click here to find out more!